Today I'm celebrating.  I couldn't be happier, because today I celebrate the one-year anniversary of a very memorable night.  You might think it is the one-year anniversary of something very special.  Indeed it is!  Some people celebrate their birthday today.  Several of my friends celebrate their birthday today.  It makes remembering the exact date much easier.  You might think this is the celebration of a new relationship.  In many ways, this is true.
Exactly one year ago… the moment I write this… I was in an ambulance riding to the hospital, alive.  My car was in ruins, totally destroyed by collisions with two different large vehicles.  Then, the Firemen ripped off the driver's door of my car so I could get out.  You can take a look at what was left of my car and imagine how much worse things could have been.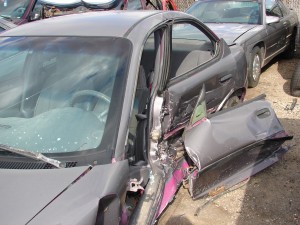 T-Boned in the driver's door.  The car crunched as far as it could go without more serious injuries to me.  I'm very thankful the drivers were not going even one mile per hour faster.
Instantly, things were not okay.  A few moments before, I was doing my regular workout at the gym.  Now, I was not okay.  Both my arms were instantly numb.  I thought I suffered serious neurological damage.  Internally I was freaking out….  My phone was forever lost that night.  It turns out, I was driving and talking on the phone.   I am thankful I was driving and talking on the phone for two reasons.  First, I believe my arm would have been much more severely injured if I was driving normally.  My normal driving position would have pinned my arm between the steering wheel and the crushed door…causing compound fractures.  Second, the person I was talking with on the phone contacted my son and told him there had been an accident.  My sons met me at the hospital and made sure I was okay.  Thank you Byron and Chris!
And I celebrate!
You might think it strange that I call this a Nightcap.  You see, it came at the end of several other events in my life.  My job was outsourced.  I became unemployed for the first time in my life.  Unexpected and uninsured medical expenses.  "Mr. Watts, can you write a check to the hospital for thirty-thousand dollars?"  Real Estate Business failure and the loss of several houses.  A spouse with severely broken ankle and later broken hip and my son in a serious ATV accident on the next day.  Several business related lawsuits.  Loss of a lot of money.   Divorce.  …and, a smashed up car and broken wrist.
Having my car destroyed could have been a breaking point for me.  The Nightcap of many bad things.  Some people give up.  Even some of my friends suggested that my life story sounded like the person in the Bible named Job.
Instead of a Nightcap of many bad things, I celebrate the Nightcap of many significant choices in my life!
At each major event, each trial, each trauma, I celebrate the intentional decision, the commitment to be Better instead of Bitter.  The decision and commitment to grow through the panic, trials and pain so that I can help someone else through their struggles.  I made the commitment to find and develop systems to win and to help others do the same, much faster than I was able to.
When the job as outsourced, it took some time to adjust and figure out what to do.  I needed a mentor who could help me…but I didn't understand at that time how disconnected and unsupported I actually was.  It took several additional traumas before I was able to understand and identify what was going on.
Fortunately, I was able to find and develop the systems to help others who are going through struggles.  Systems to help those who know they want Bigger and Better instead of quitting, getting Bitter or settling for mediocre in their life.
Celebrating the Nightcap and Our Decision To Win!
Bigger and Better.  We Can Do It Together™.
Look forward to more helpful information and celebration in the next few days!