LifeShift Success Plan™
"A Step-By-Step Blueprint that brings
your gift and Vission™ to life."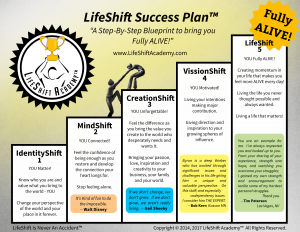 The Blueprint includes five proven proprietary modules:
IdentityShift
MindShift
CreationShift
VissionShift
LifeShift
Get this before investment amount goes UP!
LifeShift Success Plan™ is the premier system and blueprint of LifeShift Academy™.
Some of the things LifeShift Academy™ will make possible for you through LifeShift Success Plan™:
End the confusion of overwhelm, distraction and uncertainty as you gain a clear understanding of your strengths, abilities and your special made-for-you definition of success.
Take the first step to reconnect with your heart, your Vission™ and your reason for living.
Discover your hidden secrets and how they are keeping you from the life you want and deserve.
Begin the LifeShift™ you need to succeed.
Conquer the addiction that blocks your progress.
Discover how your Vission Magnified Activity™ will serve you as you accomplish amazing things much faster than ever before.
Stop letting your weaknesses destroy you as you quiet that negative voice in your head.
Live your life fully engaged.  Your designed-for-you lifestyle makes you fully alive!
Living your Vission™ brings significance to your life as you build and leave your legacy.
Shift from fear and negativity to quiet confidence when you have the proven support and healthy encouragement you need to take risks and make decisions that bring you the success you deserve.
Discover how your special contribution brings clarity and purpose to your everyday activities.
Go home at the end of the day and feel passionate again, feel real again, feel inspired again.
Discover how to have authentic relationships.
When you know you seriously need to move forward quickly you won't wait to make the investment in yourself that is needed for massive success!  Those who take the proper action quickly, always benefit from their clear decision to make the future different and better than the past.
Do you understand how important this is?
Have you or someone you love struggled with addictions, or other destructive habits that are destroying your life?
Shift from confusion, overwhelm and Blind Spots to a clear understanding of your strengths, abilities and success.
Take the action required for your success NOW.
Begin your journey of discovery and freedom with The LifeShift Academy™ LifeShift Success Plan™.
Make a commitment to a Bigger and Better Future.  Bring your gift and Vission™ to life!
Begin your journey to a new LifeShift™ pattern of success.  Unleash Your Potential!
Invest in You and the ones you love Today.